Outdoor Check-in Kiosk
Self service technologies in hospitality is becoming a guest expectation. Reduce your staff cost, boost guest satisfaction, and create a memorable guest experience with our advanced check in kiosk solution.
Outdoor hotel kiosks
Our Duo 1800 series kiosks are built for the outdoors. Provide an easy check-in as a simple, low cost and effective way of managing late arrivals to your hotel. Arriving and departing hotel guests can use the kiosk to:

Walk-In
Walk-in when arriving without a hotel reservation. This includes selecting an available room and completing the same steps as for regular check-in.

Check-In
Check-in in a few simple steps. This includes completion of registration card, passport scanning, adding products and credit card payment.

Key Pick-up
Pick-up room keys in less than 20 seconds by scanning a QR code if pre-check-in was done online before arrival.

In-House
In-house (already checked-in guests) can use the kiosk to create an additional or replacement key
DUO 1810 features
Discover our automated check-in kiosk's features by clicking on our interactive image
DUO 1850 features
Discover our automated check-in kiosk's features by clicking on our interactive image
Advantages
of check-in kiosk for hotel guests
24h check-in kiosk allowing guests to check in late at night in hotels with limited staff availability

Book a room and get access to the hotel even after closing hours

Simple interaction in the guest's own language

Express service - no need to wait in line

Automatically encoded keycards OR dispensing of mechanical keys

Go straight to the room after completing the check-in
Advantages
of check-in kiosk for your hotel
A consistent arrival and departure experience

Improved upselling results ID and Passport scan

Improved guest satisfaction
Questions fréquemment posées sur la technologie libre service dans le secteur de l'hôtellerie et de la restauration
Can I customize the check in and out kiosk ?
The outside check in kiosk exists in three different color ; red; white and charcoal grey.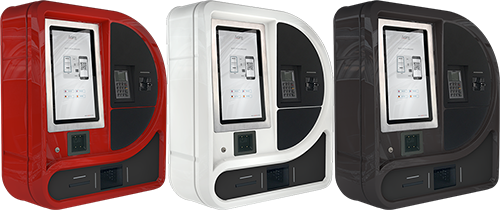 How can I get support for my self-service kiosk in case I need help or assistance?
Online support
A dedicated team of technical experts are available to help you solve any issues you may encounter with our systems. With the ability to remotely control your installations, our team will bring them back to full operation in only a few hours. Our online support center offers comprehensive opening hours to satisfy our most demanding customers.
Onsite support
Should we not be able to resolve an issue with our online support center or need to replace a faulty part, our teams will dispatch a technician to your site in a short time.
The same terminals can be used to request replacement keys and even check-out.
How do I know if my pms is integrated with our self service kiosks ?
Check our integration overview to see if our kiosks are supported by your PMS.
What if our hotel is working with mechanical keys ?
Our outdoor kiosks can be delivered with keycard compartments instead of encoders for electronic keys. Load your mechanical keys to an empty compartment, update the reservationin the PMS with the corresponding compartment number and the correct key will be dispensed when the arriving guest completes check-in.