BYOD
Safe And Contactless Check-In Using Your Own Device
Lobby check-in on mobile allows arriving guests to check-in using their own mobile devices.
The real-time check-in process allows guests to pickup their room key immediately after completion.
This is a safe and convenient supplement to kiosk and manual processes providing guests with a choice matching their level of comfort.

100% contactless
An innovative new option from Ariane providing guests with a safe and contactless check-in using their personal device.

Efficient
Check-in on mobile is fast and can be used as a supplement to kiosk and front-desk. Room assignment is done in real-time and key pickup takes 20 seconds or less!

Stress-free
Lobby check-in on mobile frees your staff to focus on safety procedures and providing good guests service taking full advantage of a digital check-in process keeping staff and guests safe.
Arriving guests are informed about Lobby check-in on Mobile as a touch-free alternative to regular check-in when they arrive at the hotel
Guest can use their own mobile, tablet, or PC to access the lobby check-in page either by scanning a QR code or by manually entering a URL (promoted in the reception area and on the kiosk).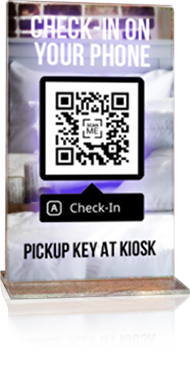 The last name and reservation number are needed to retrieve the correct reservation. This will allow the guest to start the check-in process.
Mobile check-in includes the same steps as a regular check-in. This can include completion of the registration card, declaring additional guests, adding options like breakfast and parking, and secure payment or pre-authorization.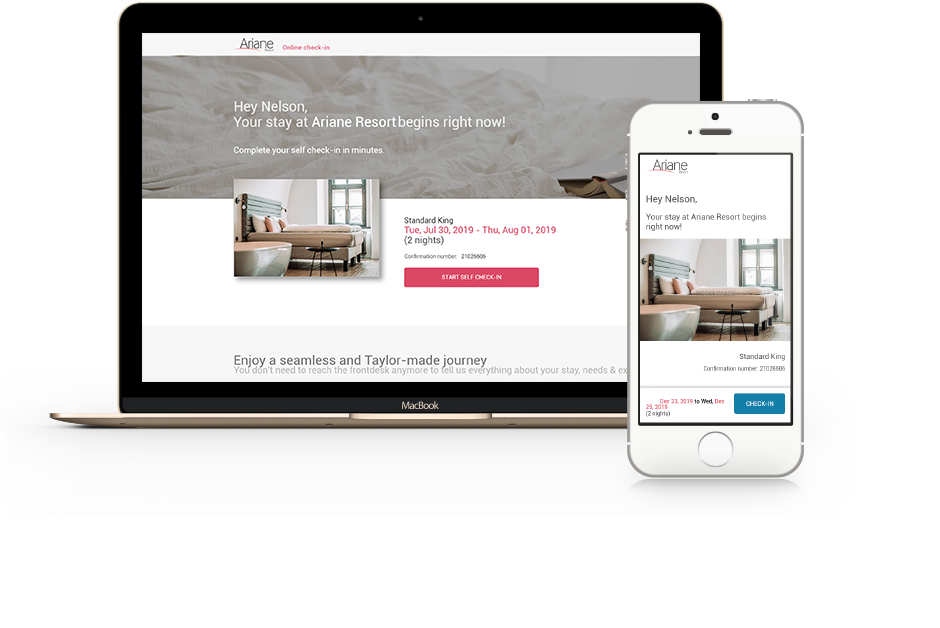 Alternative guest journeys
Lobby check-in on Mobile is
extremely flexible
and can be configured in a number of different ways. This includes
manual creation of keys
, support for
pin-codes
, and
queueing
if a clean room wasn't available at the time of check-in.

Keycard pickup
Guest scans their QR code on a kiosk or keycard dispenser to create a key.

This guest journey is completely touch-free and only requires the guest to place the phone in front of a QR code reader and to pick up the room keys. This typically takes 20 seconds from start to finish!

Room availability
If none of the rooms were vacant at the time of check-in, the guests will receive an email or a text message notification with the room number and instructions for key-pickup as soon as a room is ready!
Queuing and notification by mail and SMS allow the guest to explore the destination and get out of the lobby.

Manual key pickup
Lobby check-in on Mobile works well also without kiosks. Show the room-ready notification to the receptionist and get a pre-encoded key. Safe, Simple, and Efficient!

Pin-code
Hotels with pin-code door locks can also use Lobby check-in on Mobile. The room ready notification will include room number and the simple to use pin-code will be sent as soon as a room is available.
Guests can skip the line and enjoy a stress-free arrival!