SELF-CHECK-IN SOLUTIONS FOR
budget hotels, independent hotels, boutique hotels, hostels, hotel chains, resorts & casinos, your hotel
From small to large hotels, 1 to 5 stars, business, and leisure, boutique and hostels - Ariane's solutions can help make check-in Safe, Simple, and Efficient for every type of hotel. All of our solutions can easily be adapted to fit the specific needs and reflect your hotel's design.
Ariane Systems, the leader in
self-service solutions for hoteliers
For the last 20 years - Ariane's mission has been to help hoteliers simplify guest arrivals, improve guest satisfaction, and increase profitability by offering advanced and fully automated self-service solutions.
Enable a safe and efficient check-in experience for your guests
Ariane Systems offers a contactless kiosk check-in and out.
Guests can skip the front desk entirely using their own device to check in and pick up their key, reducing non-essential face-to-face interaction between staff and guests.
Mobile check-in and check-out
In today's world guests expect a convenient and fast check-in and check-out kiosks experience.
Giving them the ability to check-in from their home or office while using their phone, tablet or PC all in less than a few minutes will create a sense of control and empowerment. Imagine if you could receive your room number prior to arrival and be given the promise of receiving your room key in seconds without any wait or hassle.
Indoor kiosk solution
Mobile check-in is not always the answer. Whether guests were unable to complete their online process, or simply could not access the service, indoor kiosk check-in will always serve as a great supplement. Always available, guests can check in & out, scan their ID, upgrade their stay, use their card for payment and get their room key in a couple of minutes.
Ariane offers multiple check-in kiosk models to fit your hotel's needs.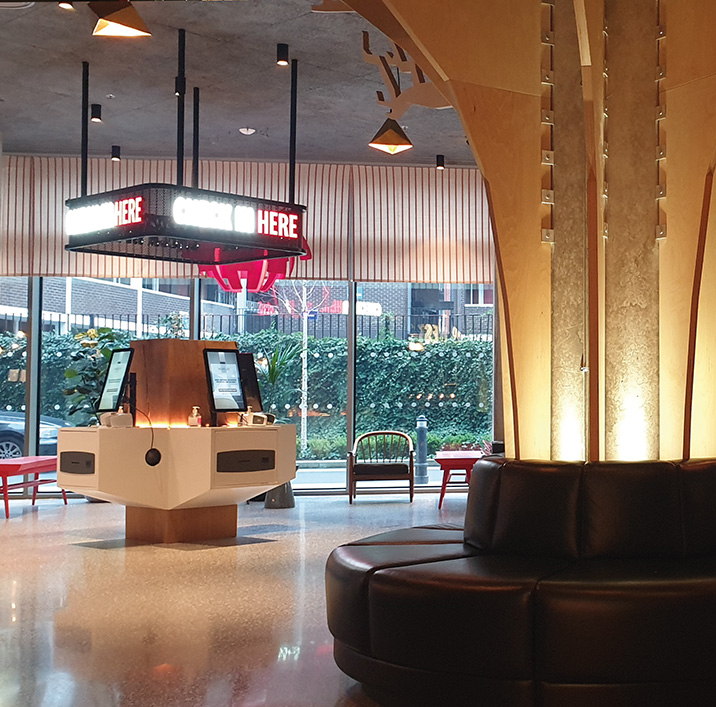 Outdoor Kiosk solutions
Some hotels are not open 24/7. Some might need a remote check-in location.
Our unique outdoor kiosks will allow your guests to check in & out in a few clicks.
Weather-resistant and vandal-proof, our kiosks were created to offer the highest level of reliability and availability.
WHAT CUSTOMERS SAY ABOUT US
We initially installed our automated kiosk to help cope with staffing issues. We never imagined that this system would become such a huge contribution to our success during Covid. We are thrilled to have a state-of-the-art system that helps prevent long line-ups, allow zero-contact reservation and check-in, all while helping reduce labor cost.
Ariane solved our main issues: - Flexibility in the experience. Via the web check-in + kiosk at the hotel, the guest has an efficient experience. - Customer-oriented: automation of the check-in process gives opportunity to the staff to give a better concierge service. - Covid-19 friendly - frictionless experience.
Hotel in Montreal, Canada
No waiting at the reception desk. No language barriers. Savings in personnel costs 7/24 check-in possibility. A good solution in Corona times.
88 rooms hotel in Germany
Significant reduction in payroll costs for the hotel as a 24-hour front desk is no longer required. The majority of guests prefer no contact self-check-in, now especially important due to the Covid pandemic. Guests also like not worrying about arriving late at the hotel - they can arrive any time (the previous hotel owners used to charge guests £25 for post-midnight arrivals!!!!).